SEASON 2
---
GO STRAIGHT TO…
Ep. 1: Friendly Greg – Steamy Toots – Patrick Murphy
Ep. 2: Kidzwick – Hamish – Nimrod – FartKevin – Cephalabob – The Bladderpede
Ep. 3: Wise Steve – L'il Cherub – Mac Hazard
Ep. 4: Prince Cognis – Captain Ratface
Ep. 5: Parker the Parking Droid
Ep. 6: Ultra-Dame Buggelsheim – Haemorrhage Spleen-Mangler – James
---
Ep. 1: Scum of the Universe
Friendly Greg
Species: ???
A mysterious creature of unknown origin. It forced its way onto the crew some time between Season 1 and 2, ingratiating itself with the Captain through very obvious sucking-up and tentacle-based massages.
No one knows who or what Friendly Greg is, or if 'Friendly Greg' is even its real name (it's highly doubtful).
It seems to enjoy creeping around in vents and playing the ukelele.
Despite its insistence on its trustworthiness, Friendly Greg was eventually revealed to be working for Buggelsheim, and was last seen plummeting into a Bog of Used Syringes.
Trivia: Friendly Greg's side of the story will be told in the upcoming feel-good indie rom-com 'Loving Me, Loving You, Loving Friendly Greg', coming to holosets everywhere. Friendly Greg will be played by a Duck-Billed Manticore that ate a distant descendent of Daniel-Day Lewis.
Steamy Toots
Species: Muckmite
 Enjoys landfill humour.
Steamy runs a small team on Trashteroid 9, a satellite of junk orbitting a planet too sophisticated to deal with its own waste.
He appreciates the Muckmite philosophy of 'the natural flow', balancing all things in life as one balances their digestive system.
Steamy provides the crew with a software upgrade for their spaceship systems computer in return for highly-prized Indigestion tablets, which are worth more to a Muckmite than diamonds.
Trivia: Steamy agreed to the deal with Murphy after bonding over their shared experiences living in scrapheaps.
Patrick Murphy
Species: Human
Coming soon…

Haemorrhage Spleen-Mangler
Species: Gorrian
Haemorrhage Spleen-Mangler likes mangling spleens.
He and his partner, James, are Bounty Hunters with varying success rates. They always catch their prey… but have yet to figure out how to set their Laser Chainsaws to 'Stun', not 'Disintegrate'.
Haemorrhage was pressured into the job due to his family name, 'Spleen-Mangler'. He has never met his parents (Gorrian tradition is to give a baby 2 things before leaving forever: a name, and a firm punt across a field), but is never quite sure how much of his organ-demolishing job was his own choice.
He does like making lungs into fancy hats.
Trivia: Due to the overexposure of hyper-violence in Gorrian culture, the name 'Haemorrhage Spleen-Mangler' is the Gorrian equivalent to 'John Smith'.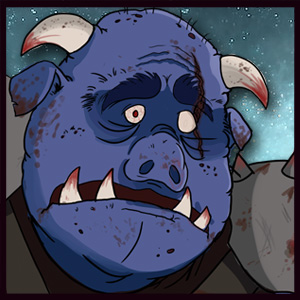 James
Species: Gorrian
James is particularly fond of brain cereal.
Haemorrhage's partner Bounty Hunter. While Haemorrhage is the brains of the operation, James is the looks. James enjoys his job immensely, probably more than his partner.
The two met at a company picnic.
A Space Mountie once (politely) scarred James' eye with their moustache while attempting to ride him, which is why he has a fearful respect for them and all of Space Canada.
Trivia: Due to the overexposure of hyper-violence in Gorrian culture, the name 'James' is actually far more terrifying than 'Haemorrhage Spleen-Mangler'.
---
SEASON 1
Ep. 1: Ambassador Murphy, Chip McMash, Minders
Ep. 2: Loafer (Oort's Parasite)
Ep. 3: The Grand Not-George, The Mop
Ep. 4: Harmonious Buttocks, G'narth the Destroyer, Stinkhorn
Ep. 5: Ultra-Dame Buggelsheim, Theodore Thunderbolt, Simmons
---
<< Alien Species ||| Objects in Space >>
---