Free MP3s of Season 1!
To Download, Right Click and Select 'Save Link As'…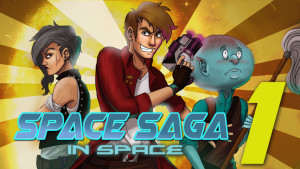 By the Fjords! On a future Earth conquered by Norway, Captain Murphy hides in his dead spaceship from the robotic Minders. Timid, balloon-headed Norman is his only hope. Adventure awaits!
MP3 (23.6mb, 16:45) DOWNLOAD

Norman tries to explain how the ship works (it involves Mayonnaise).
MP3 (5.5mb, 3:36) DOWNLOAD

—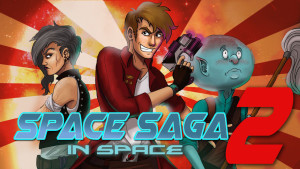 Asteroid Wily, Seediest Stopover in the Quadrant! The crew must overcome giant Oort, his nefarious parasite, and Dubwarts: aliens that think pop music is an act of war.
MP3 (23.5mb, 16:41) DOWNLOAD


Oort is cleaned of diabolical parasites.
MP3 (3.1mb, 1:48) DOWNLOAD

—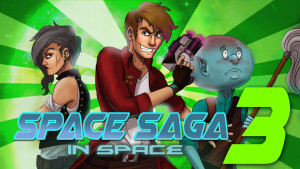 'For He is George, and we… are Not!' The crew finds a distress signal on a swampy moon. Can they save the primitive Not-Georges from 'The Terror'? And just how much havoc can a mop cause?
MP3 (23.5mb, 16:38) DOWNLOAD


"THAT'S accusing someone of being aroused by bubbles."
MP3 (3mb, 1:41) DOWNLOAD

—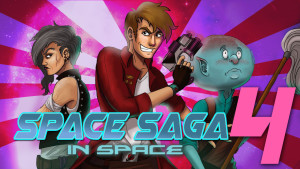 Planet-sized alien Ozmorb. Murphy and Rho get drunk to meet a Barfly, an alien invisible to the sober eye. Norman finds out why their robot seems programmed to annoy.
MP3 (25mb, 17:51) DOWNLOAD


Yug has done something horrible to the Captain. While locked in the cockpit, Yug and Benson share their robot knowledge.
MP3 (3.4mb, 1:59) DOWNLOAD

—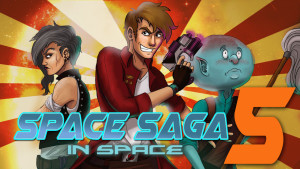 Murphy's rival, the dashing Captain Thunderbolt, stands between the crew and their biggest score. Can they best his light-up pecs and muscle-bound Testosteroids to reach the Golden Record?
MP3 (31.6mb, 22:32) DOWNLOAD